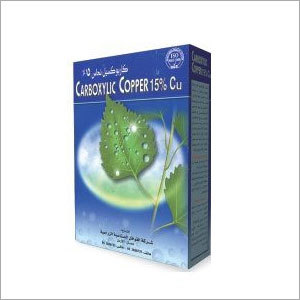 Carboxylic Copper 15%
Product Description
Carboxylic Copper 15% is a chelated form of micronutrient which is considered best to be utilized in alkaline soil conditions. It is especially demanded for eliminating the growth of fungus & bacteria which results in better yield. This coated copper gets easily absorbed through plant roots and removes outer coating after entry. It is also important for the growth of normal tissues and correct functioning. Carboxylic Copper 15% is provided in powdered form for ensuring easy storage and gives the flexibility of direct application to the soil. It can be availed at reasonable rates in large amounts as demanded by our trusted clients.


Carboxylic Copper 15% Cu


This is a Coated Copper with organic matter composition that is applied to eliminate the growth of fungus and bacteria.