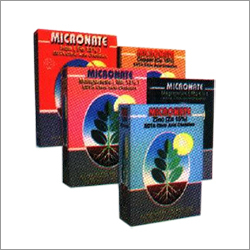 Chelated Micronutrients
Product Description
Chelated Micronutrients are formulated as inorganic nutrients that are enclosed in an organic molecule. They are utilized as fertilizers that are especially applied to alkaline soils. These micronutrients are applied as foliar sprays for ensuring excellent effectiveness and complete reliability. Organic coating in these nutrients helps in easy absorption by plant roots whereas chelate is released after entry into the plants. They are best when accurate doses are required and one seeks excellent effectiveness. Chelated Micronutrients also prevent nutritional deficiency while eliminating the chances of diseases & any kind of negative effects.


Chelated Micronutrients
We are counted among the trusted manufacturer, exporter and importer of Chelated Micronutrients to our highly honoured clients. These are a mix of carefully calculated percentages of micronutrients (Fe ,Mn ,Zn ,Cu ,Ca ,Mg) in EDTA citric acid chelated form. They are known to prevent, overcome and treat yellowing and other problems on plants caused by micronutrient deficiencies. Chelated Micronutrients are efficiently and easily absorbable by plants. Clients can avail these from us at pocket- friendly prices in the market.
Chelated micronutrients are chelated trace elements which supplies essential micro elements to plants. When used in accurate dosage, this prevents pants from micro element deficiency symptoms and related diseases as well as negative effects on them.